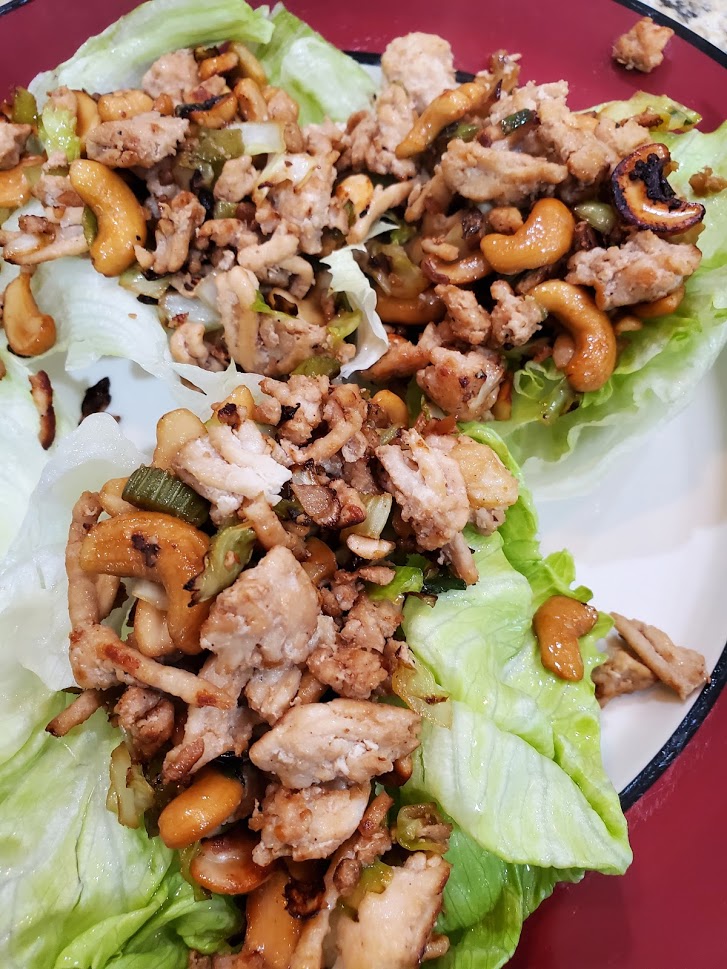 INGREDIENTS
1 package ground chicken
Two celery stalks, chopped
1/4 white onion, chopped
3 closed garlic, minced
1/2 cup of cashews
2 TBS olive or avocado oil
1 TSP sesame oil
Salt and pepper
3 green onions, diced
1 TBS rice wine vinegar
1 TBS sesame seeds (optional)
1/2 tsp ginger
1/2 TSP chili garlic sauce (This is located in the Asian food aisle at Kroger. Zero carbs. Adds great flavor to a lot of dishes. I highly recommend buying some)
4 TBS liquid aminos (or soy sauce)
1 can sliced water chestnuts, diced (optional, but so, so good)
1/2 head iceberg lettuce
INSTRUCTIONS
Add 2 TBSP oil to a skillet or wok and heat on med/high heat.
Add the ground chicken and cook for five minutes, stirring occasionally.
Add half of the liquid aminos (or soy sauce), garlic, ginger, white onion and celery
Continue cooking until chicken begins to brown.
Add sesame oil, water chestnuts, remaining soy sauce, salt, pepper, chili sauce and cashews
Cook for a few more minutes, stirring regularly to toast your cashews
Turn off the heat and top with chopped green onions and a sprinkle of sesame seeds.
Serve in lettuce cups or over rice.
*Cashews do contain more carbs than some other nuts. You can substitute peanuts if you prefer.