Cases worldwide sit at 11.3M, with cases in the U.S. at 2.93 million. Deaths worldwide are at 532K with U.S. deaths closing at about 132,000. New cases in Ohio are still rising with more than 1,000 new cases per day multiple times in the past week. Texas, California and Florida are the still hot spots, but new deaths are still fairly low. Hopefully it will still be that way in a couple weeks, but Texas hospitals are supposedly getting pretty full.
Yesterday was Independence Day. It was a good day. The weather is beautiful, but very hot and dry. It's been over 90 for a few days already with temps of 90+ forecast every day through the 11th. Several neighbors did fireworks so we sat out front and so a pretty good show + there was an awesome full moon. I overslept this morning and didn't go out walking until after 8AM, which was a huge mistake in this heat. I barely jogged at all and at one point I walked through someone's sprinkler to cool off. I don't know how S does it. He likes to sleep late and that means he's our jogging when it's already like 84 degrees. I can't do it. I am setting my alarm tomorrow. Getting started that late messes up my day.
We continue to use our grill almost every day. I love it! I can't stop making grilled sweet potatoes. OMG! So good. it's my new favorite recipe. Today I made lettuce wrapped BLTs to go along with them. Tomorrow it's garlic buffalo wings.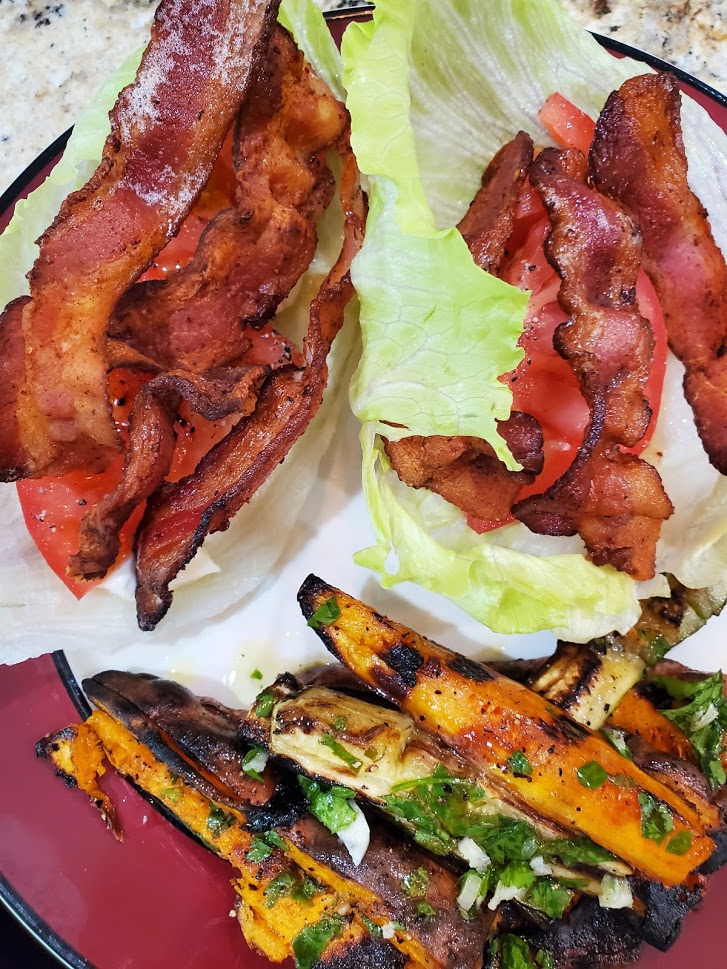 Poor GG. I feel so sorry for her. It was bad enough, but now with this injury I think she's pretty bummed out. It's hard to bathe, change clothes etc. She says she's fine and sleeping better, but now she's even more stuck inside than she was before.
I still have two more days of vacay left which is awesome. I am getting ready to start a new book series, The Folk of Air. It's yet another Goodreads recommendation. Fingers crossed. The Dubs have been busy hanging drywall in their garage so they can better use it as a home gym. They have quite a set-up going in there.
My mission tomorrow it to obtain Lysol wipes and bathroom cleaner! Sounds easy right? Nope. Not so easy to obtain any cleaner that kills germs in the current atmosphere. In other weirdness, the lack of most professional sports being active meant ESPN broadcast the National Cornhole Championship today. Yeah. That's a thing. We had it on for like an hour. How sad is that?