Today is the last day of a three-day weekend. I would be sad, but we have a five-day coming up over Labor Day. As a family we have decided to take the plunge and meet next weekend. We haven't been together since March 8th. It will only be the five of us: J & T Dub, my mom and S & I at our house. I feel like we are five people that have been very cautious, and we'll continue to be cautious during our visit. It's time though. We miss our family.
This weekend has been beautiful. Eighty degrees and sunny. Perfect! I've almost finished book two of the Stormlight Archives. Fantastic! As always, I've spent a lot of time reading on the deck. I love all the critters we see in the "Almost Country". This morning, on my walk/jog, I saw our neighborhood mama deer and her two fawns. I also walked up to the lake today. I think it's technically a pond, but there are multiple ponds and this is the big one.
As you may already know, I've never been a big fan of birds. I try to feed them in the winter and so on. It's just that the big packs of them freak me out a little. And those grackle birds in Texas? Hell no. They are noisy. Whenever I go to Austin I always feel like I'm in a Hitchcock film. That said, S & I really enjoy watching the birds in our woods. We have blue jays, cardinals, woodpeckers, owls and pretty yellow birds whose name I don't know. We also have lots of hummingbirds. We got a hummingbird feeder for Christmas and it's been fun watching the little birds, who basically look like giant bees, up close. We also have toads galore. I'm told there are snakes, but I haven't seen one yet. (Not that I am anxious to see one). There are also lots of pretty butterflies. Here's one from today on my previously mentioned Hydrangea tree.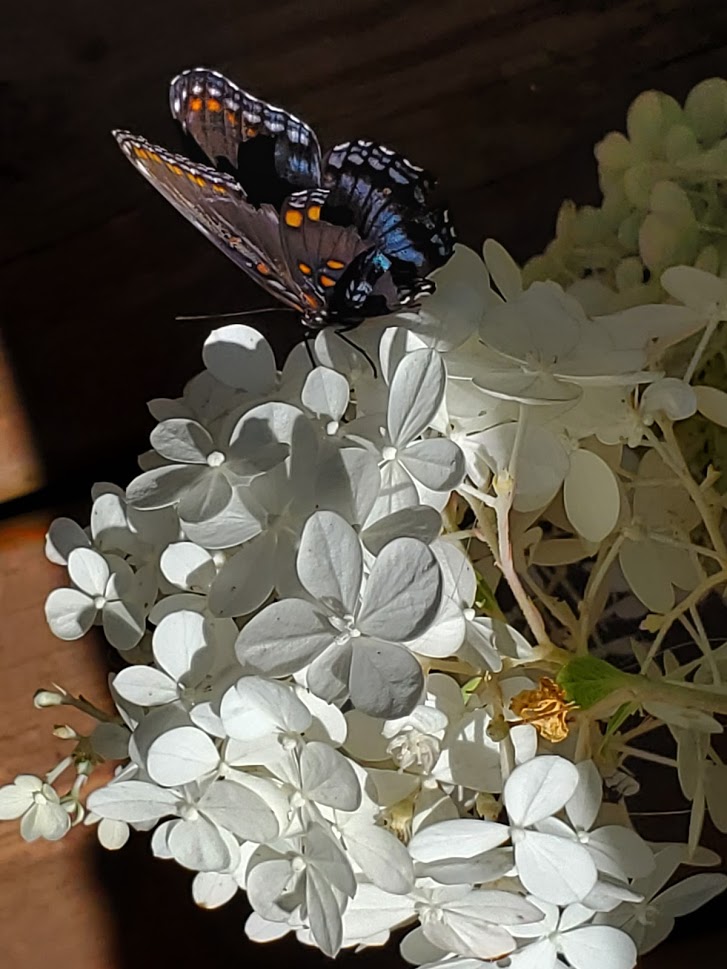 NFL football starts in two weeks. It's been really weird so far. There are no pre-season games because of COVID. I'm currently listening to the Bengals scrimmage on WLW. It's only midly interesting because…. well…it's our offense playing our defense as opposed to another team. Better than nothing. Hopefully everyone stays healthy.