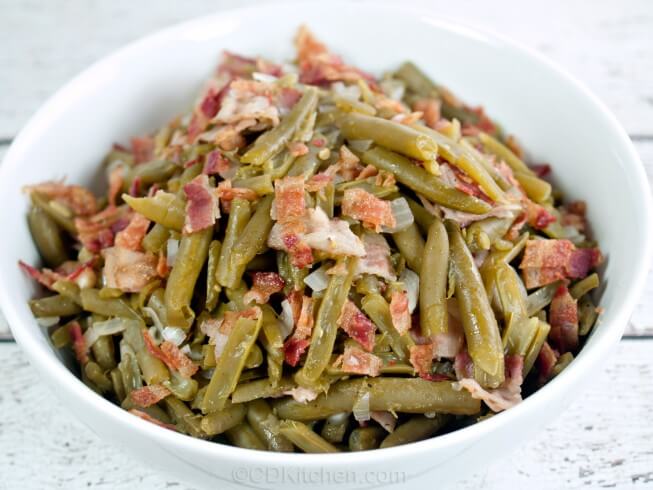 My grandmas could both cook. Their style of cooking was very different, but I always remember having great meals with both of them. Now my dad's mom was what I would call a classic southern cook. She used to host the whole family on Sundays and prepare a big Southern-style breakfast. Other times, it would be an afternoon gathering that featured Southern fried chicken and, my favorite, Grandma's green beans. To this day, the best beans I have ever had. Here's my take. Disclaimer: SILL NOT AS GOOD AS HERS.
INGREDIENTS
2 LBS Green Beans
1/2 White onion – chopped
3 Cloves Garlic, diced
4 slices of bacon
1 carton of chicken or chicken bone broth
water
Salt & pepper
INSTRUCTIONS
Dice your raw bacon
In a standard stew or stock pot cook your bacon on med/high heat until until it begins to crisp. DO NOT drain the grease from your pot.
Add you diced garlic, onions, salt and pepper. Cook for a few minutes until fragrant.
Add the entire carton of chicken stock
Add enough water so that the level of liquid in your pot is thoroughly covering your beans. If you want to use all stock and no water, that's fine too. Using all water is also acceptable, but they are more flavorful using stock.
Bring to boil then reduce the heat to low and cover. Cook on low for two to three hours. Add more liquid as needed to keep your beans covered as the liquid begins to cook off.
Enjoy! Store in the refrigerator for up to five days. These will be even better the next day!